Driving the Smokey Yunick Hot Vapor Fiero
by Eric Schneck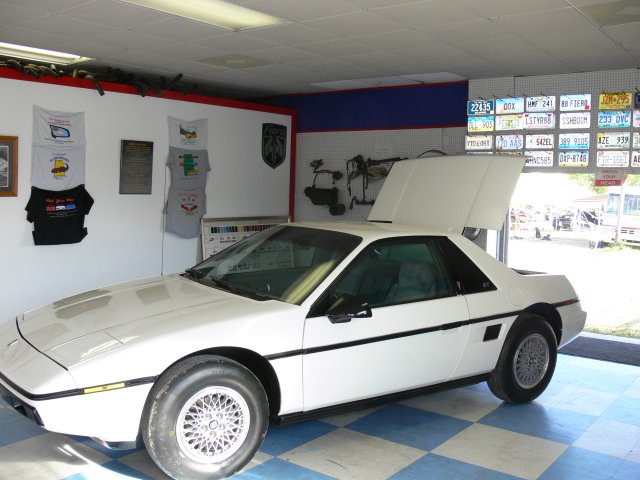 Smokey's car at the Fiero Factory
Those that remember the '50s and '60s know Smokey Yunick's name. Those that missed them only know the legend. I am one that missed those days, so anytime I can get a chance to see some of the early days of hot rodding I take full advantage of it. Such is the case when I got the offer to drive the Smokey Yunick powered Fiero that was on display at The Fiero Factory's 9th Annual Swap Meet. I had heard stories that seemed too good to be true – an Iron Duke that made 250 horsepower? And got 50 MPG? Had no emissions? Operates at 80% efficiency? And all of this was highly documented? Sure, and I have a bridge to sell you. So where was this "miracle engine"? Where had it been for the past 23 years? What makes it so special? And just who is Smokey Yunick? To answer those questions we need to start at the beginning.
Born on 5/25/23 (died 5/9/01), Henry "Smokey" Yunick never received a formal education. After dropping out of school at age 16, Smokey tinkered with engines and learned from his mistakes. After WWII (in which he flew for the Air Corps), he married and moved to Daytona Beach, FL. It was there that he founded "Smokey's Best Damn Garage in Town" on Beach Street in Daytona Beach, Florida from 1947, when he opened the garage repairing trucks, until 1987 when he closed it, claiming that there were no more good mechanics. His reputation as a good mechanic spread, and soon he was building engines and cars for stock car racing. Smokey's success in racing soon brought corporate sponsors, and it was during the mid '50s that Smokey formed an alliance with GM. And during that time frame, Smokey did some amazing things. Nitrous oxide injection, extended tip spark plugs, reverse flow cooling systems, variable ratio power steering – all commonly known and all invented by Smokey Yunick. But one item that Smokey worked on is not so commonly known, except to legions of Pontiac Fiero owners, and it is the stuff that legends are made of – the adiabatic engine.
Smokey's adiabatic engine
The term "adiabatic" is a thermodynamic term that literally means the absence of heat. Smokey's adiabatic engine uses the heat of the engine itself which is normally discarded to heat the fuel into a vapor. It is at this point that hot rodders will stand up and cry foul, for we have been told for years to cool the fuel mixture. The cooling of the fuel mixture makes it denser, which in turn causes a more potent mixture. This potency results in a boost in power. But in the same breath, not all fuel is used. Some fuel is unburned and expelled during the exhaust stroke. Simply put - most engines today are not that efficient, running at about 25% efficiency. This means that 75% of the fuel is wasted. So what if we burned that fuel instead of wasting it? This is what Smokey's engine does, but in a different way. By vaporizing the fuel mixture it causes more of the mixture to burn, which results in – yep, power. Interesting how opposite theories have basically the same results.
Smokey's system created roughly 1.8 hp per cubic inch, and could be applied to virtually any Otto-cycle (standard 4 stroke) engine. Using this formula, it is quite possible to create big block 454 engines getting 817hp. In every case the horsepower was created at 5200 rpm, which makes for a very streetable engine! So now you have some background on the theory of the engine, but what about the components themselves? The engine runs a basic carburetor, sitting on what Smokey calls a "first stage vapor generator". Hot water exiting from the engine runs through tubes in this vapor generator and heats the fuel mixture to around 200 degrees. The fuel mixture is then passed through what looks like a stock turbo, however it is not a turbocharged engine. The turbo-like device is actually a homogenizer and the second-stage vapor generator. Exhaust gases surround a turbine, through which the incoming air and fuel are mixed. This mixture is again heated, bringing it to approximately 285 degrees. From there the mixture travels into a custom intake manifold that is surrounded by exhaust gasses, which again heats the mixture to the desired 400~440 degrees. It is at that temperature that the fuel is fully vaporized. As Hot Rod wrote, "The beauty of Smokey's system is its simplicity, but simplicity is deceptive. Staged heating or the working fluid (air/fuel mixture), homogenization of the working fluid at the proper point in the heating process, and balanced heat management are the keys. Get one thing wrong and the whole thing won't work. There's a lot of physics and chemistry involved, and a few of the details contained in the various patents on this design have been intentionally withheld by the Smoke, although the basic principle of operation has been explained here."
According to urban legend, GM sent Smokey a brand new, white 1984 Fiero 4 speed to play around with. The legend continues that Smokey was never paid for his efforts, although thoughts are that GM was secretly trying to figure a way around Smokey's patents. As we've seen, ole Smokey didn't include everything in his patents, and as a previous patent holder myself I can tell you that you do not need to produce a working item to be granted a patent! So in true Smokey fashion, the engine was removed and the Fiero shell sent back to Pontiac. The engine was pushed into a corner and remained there, for 23 long years. When Smokey passed away in 2001, his assets were auctioned off (per his request), but a few were given to family members and friends. Enter Tony Allers of Hendersonville, TN.
Tony was a family friend, and got to know Smokey during the 1960's when he worked as a professional drag racer. Tony was the lucky recipient of the famed engine, and he knew what he had. It was then that he decided to build a replica of the Fiero that Smokey created, in tribute to the man himself. He sent about finding a decent Fiero, and although not an '84 he did settle on an '86. The engine was brought from Florida to Tennessee where Tony worked on freeing it up. 23 years of sitting without any maintenance or run time on an engine will cause it to be a little "tight". After many days of oil down the spark plug holes, combined with a gentle nudge to the crankshaft, the engine turned over and spun freely. Tony installed it exactly as he received it, complete with 23 years worth of dust on it, and to his amazement it fired right up.
So what was it like driving this piece of automotive history? It has no choke, so you have to just forget about jumping in and driving away. This engine is cold blooded, and needs time to warm up. The sound it has is a bit of a buzz like a pack of angry bees. It's not quiet by any means, but it's not obnoxiously loud either. You just KNOW that there's something different under the lid when you hear it running. The engine is smooth, and powerful. There is no lag – it just goes. And when I say "goes", that's 0-60 in 6 seconds flat! 2nd gear brought me past 80 and I wasn't even trying. Peak horsepower comes on at 5100 rpm. The engine is exceptionally quiet at speed, as well as the rest of the car. This Fiero is running another of Smokey's inventions – the "run silent" (or "Bald Eagle" as he called them) tires. There were only 100 of these tires produced by Goodyear, and while they were not on the original Fiero, Tony had a complete set and decided to use them. They are much like front tractor tires, basically having vertical slices cut into a slick. These slices are half an inch wide, crossing the entire width of the tire. They are exceptionally quiet and all you hear is wind from the Fiero slicing through it. The car is, in a word, impressive. This is a Duke that anyone can drive, and everyone can enjoy.